44 Flirty and Cute Good Morning Texts for Him
Waking up to a new day with the person you adore is already a priceless moment, but what if you could make it even more special with a flirty good morning text?
Imagine the smile that will light up his face as he opens his eyes to find a sweet and playful message from you.
Whether you want to make him blush, tease him, or simply express your love, these flirty good morning texts for him are the perfect way to start the day on a playful note.
So grab your phone and get ready to send one of these 44 flirty good morning texts for him that will have him thinking about you all day long.
Are you ready to ignite his heart and make him swoon?
Let's dive in!
44 Flirty Good Morning Texts For Him
1. Good morning, my love. You're the most amazing man I've ever met. I can't believe you're mine.
2. You > coffee. ☕️
3. I had a dream about you last night. It was so hot. Want to hear the details?
4. Waking up and not seeing you next to me is the hardest part of my day.
5. Morning, hot stuff.
6. Wanna know what I'm dreaming of right now? You, of course. And maybe some pancakes.
7. Your scent lingers on my sheets. Miss you 🥰
8. Hi. You're handsome. That's all. That's the text. 😊
9. I hope you had sweet dreams about me. Because I sure did about you.
10. You're sweet. Literally. 🍭
11. I can't wait to see you later and give you a big kiss.
12. I woke up feeling grateful for you. You make every day better.
13. Good morning, my sexy beast. 😜
14. I just wanted to remind you how much I love you. Have a great day!
15. I can't stop thinking about you. Is it too early to start planning our date tonight?
16. You make my heart skip a beat every morning. I hope you have a great day.
17. I wish we could stay in bed all day and cuddle. But since we can't, here's a virtual hug to get you through the day. 🤗
18. I hope your morning is as bright as your smile. Can't wait to see it later.
19. You're the first thing on my mind when I wake up. And the last thing on my mind before I go to sleep. I just can't get enough of you.
20. I love waking up to your messages. They always make me smile.
21. Good morning, my sunshine. You brighten up my day in more ways than one.
22. I had a dream that we went on a romantic vacation together. Let's make it a reality soon.
23. I miss your cuddles. Can't wait to feel your arms around me later.
24. You're the best thing that ever happened to me. And I'm not just saying that because you're hot. But you are. Very hot.
25. Last night was amazing. Can't stop thinking about it.
26. Thinking of you makes this morning even better. Can't wait to see you later.
27. Sending you lots of love and good vibes to start your day. 💕
RELATED:
Flirty Good morning texts for husband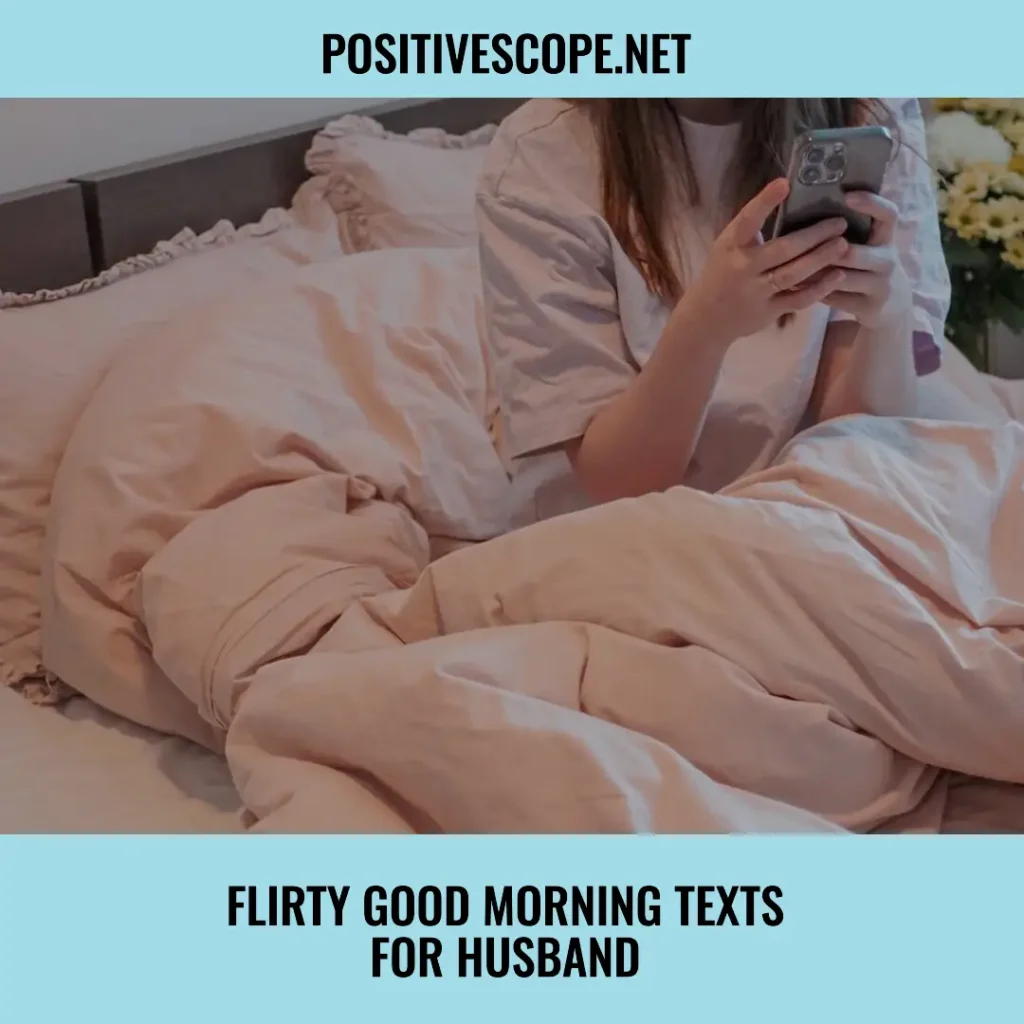 28. I hope you slept well because you're going to need a lot of energy for what I have planned for us tonight.
29. I started missing you the moment I woke up. Can't wait to see you after work.
30. Good morning, handsome. Just a reminder that I'm the luckiest woman in the world to have you as my husband.
31. I can still feel your touch on my skin from the last time we hugged.
32. I love you. Truly. 💘
33. You're on my mind. Always.
34. Good morning, my king. You rule my heart.
35. You're the reason I wake up with a smile on my face. Thank you for being my everything.
36. I wish I could teleport to your side right now. 🚀Waking up and not seeing you next to me is the hardest part of my day.
37. I don't know what I did to deserve you, but I'm so thankful that you're in my life.
38. Just a reminder that you're amazing, and I'm so lucky to have you.
39. I hope your day is as fantastic as you are. Can't wait to see you tonight!
40. I'm counting down the hours until we can be together again. You make every day special.
41. Waking up knowing I have you in my life makes every morning a good one.
42. Good morning, handsome. I hope your day is as wonderful as you make mine.
43. I wish I could make you breakfast in bed this morning, but for now, this text will have to do. Just know that I'm thinking of you and can't wait to see you later.
44. You're the only man who can make me feel this way. Good morning, stud.
You can also check: 21 Flirty Responses to "I Want You" Over Text
Tips for sending flirty good morning texts For him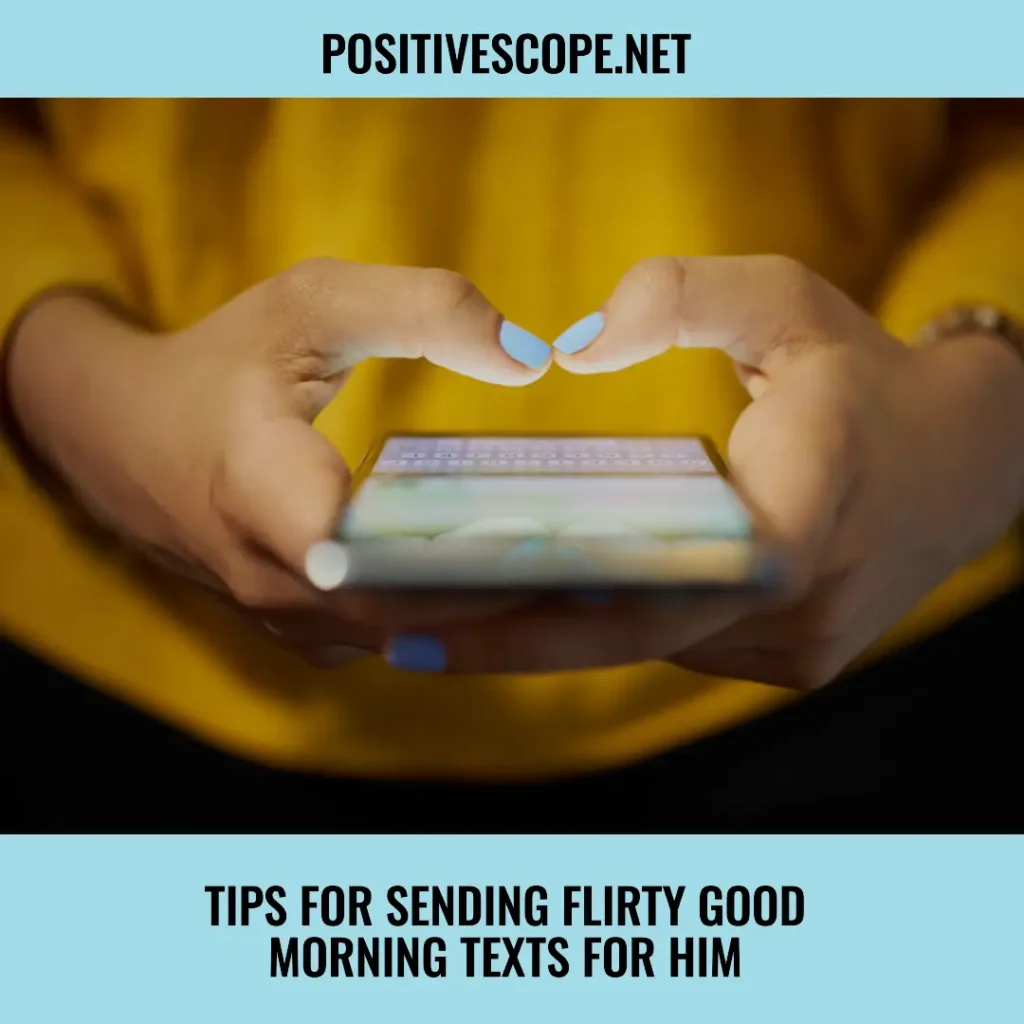 Now that you have a list of flirty good morning texts to choose from, here are some tips to help you make the most of your messages and ensure they have the desired effect on your special guy.
1. Keep it light and playful: Flirting should be fun and lighthearted, so make sure your texts reflect that. Use humor, teasing, or playful banter to add a flirty touch to your messages.
2. Don't overdo it: While sending flirty good morning texts can be fun, it's important not to overdo it. Space out your messages and let the anticipation build. This will make each text more special and memorable.
3. Compliment him: Everyone loves a compliment, so don't be shy about letting him know what you appreciate about him. Whether it's his smile, sense of humor, or intelligence, a sincere compliment can go a long way in making him feel good.
4. Add a touch of mystery: Leave him wanting more by being a little mysterious in your texts. Drop hints or flirtatious remarks that make him curious and intrigued. This will keep him engaged and interested in your conversations.
5. Use emojis and GIFs: Emojis and GIFs can add an extra layer of playfulness and expressiveness to your texts. Use them to convey emotions, add humor, or enhance your flirty messages.
6. Tailor your texts to his interests: Show that you pay attention to his likes and interests by incorporating them into your good morning texts. Whether it's a reference to his favorite sports team or a shared hobby, it will make the message more personal and meaningful.
7. Keep it short and sweet: Good morning texts are meant to be a quick and pleasant way to start the day. Avoid sending long paragraphs or overwhelming him with too much information. Keep your messages concise and to the point.
You can check: 32 Ways to Respond to a Heart Emoji For Every Situation
Final Thoughts
Sending flirty good morning texts is a fun and playful way to let your special guy know he's on your mind.
By following these tips and using the examples provided, you can make his day a little brighter and strengthen your connection. Remember to keep it light, be genuine, and most importantly, have fun with it.
Happy texting!