22 Flirty responses to "What's your type?"
Curiosity and attraction often lead to the question, "What's your type?" When someone asks this question, they're seeking insight into your preferences and interests.
Responding with a flirty and enticing answer can keep the conversation light and exciting.
In this article, we've collected 22 flirty responses to "What's your type" question.
let's get started.
How to Reply When Someone Asks What's Your Type?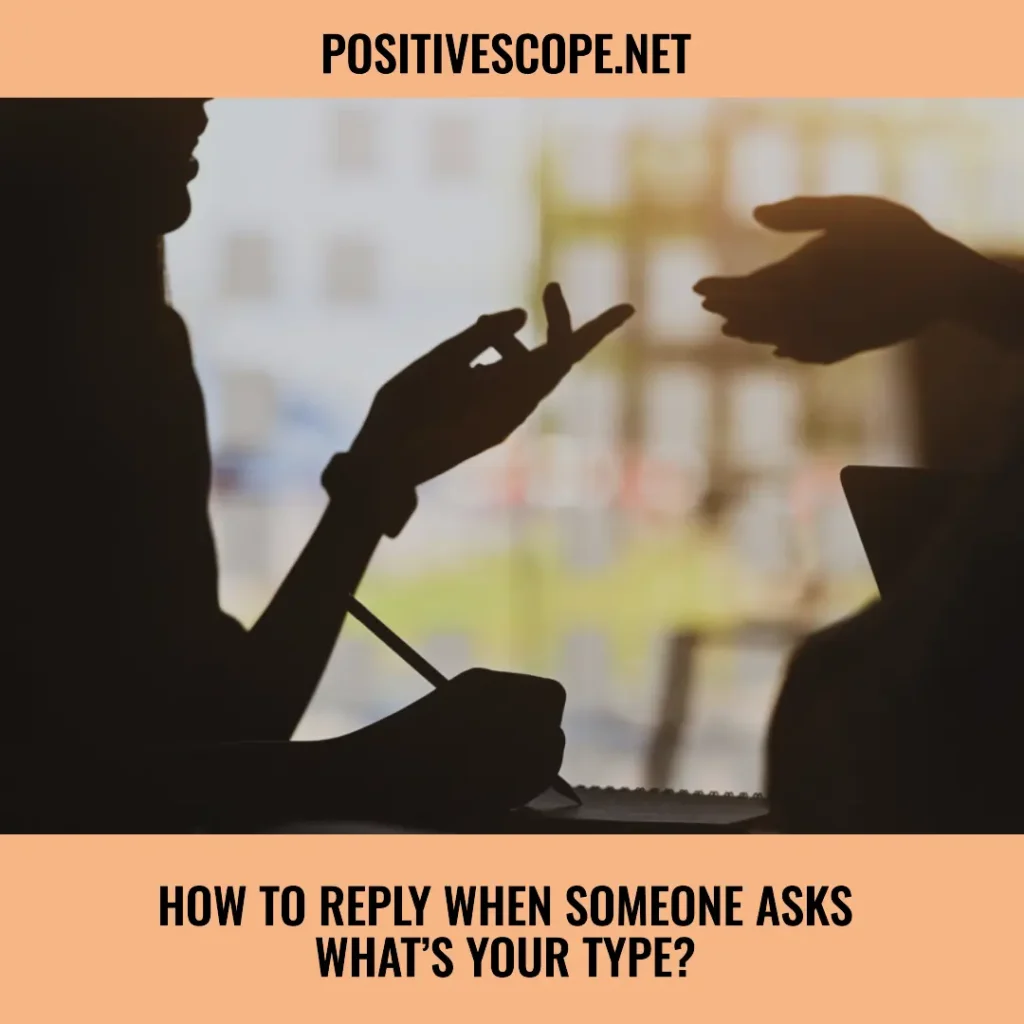 It's simple, just answer as if they instead asked "How would you describe me"
When someone asks what your type is, it's important, to be honest and straightforward.
You should confidently express your preferences without hesitation.
However, it's crucial to handle their response with finesse and charm.
When they ask, "So am I not your type then?" playfully tease them and ask if they were trying to gauge your interest in them.
This approach, known as being playfully cocky, adds an element of flirtation and creates intrigue.
By assuming that they already have an interest in you, you'll leave them blushing and captivated.
Remember, authenticity and a touch of playful teasing can go a long way in building attraction.
You can also check: 42 Ways to Respond to You're Crazy from a guy
Flirty responses to "What's your type?"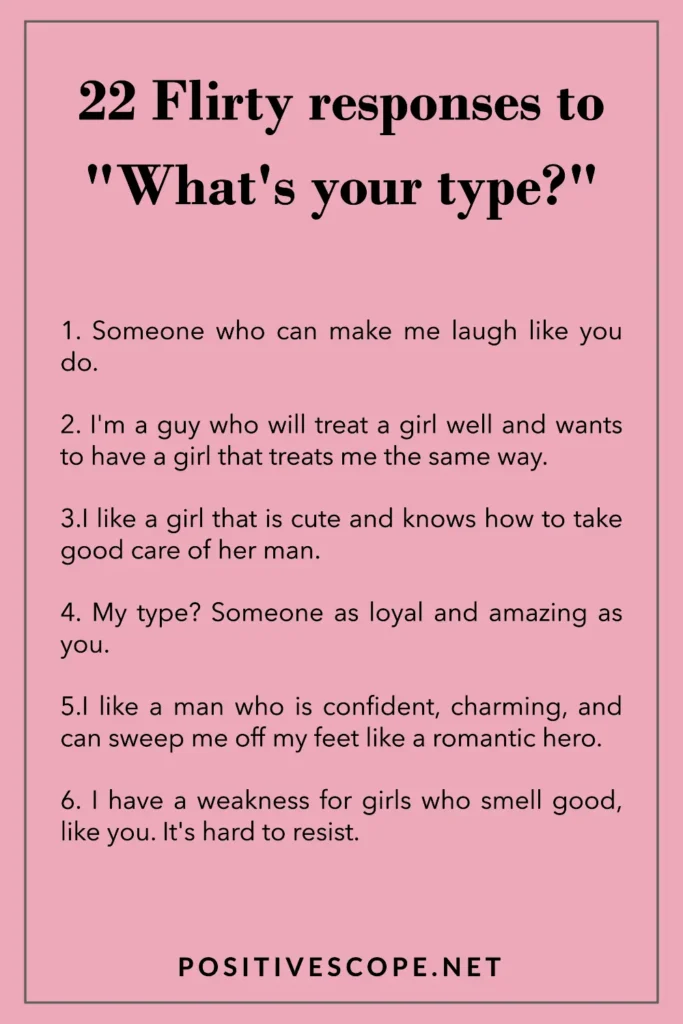 Someone who can make me laugh like you do.
My type? Someone as loyal and amazing as you.
I'm a guy who will treat a girl well and wants to have a girl that treats me the same way.
Well, my type is someone with a smile that can make my heart skip a beat. Are you up for the challenge?
I like a girl that is cute and knows how to take good care of her man.
I like a man who is confident, charming, and can sweep me off my feet like a romantic hero.
A perfect mix of brains and beauty.
I know wisdom when I see it
You're my type, no doubt about it.
I have a weakness for girls who smell good, like you. It's hard to resist.
Affectionate and one in a million? Yeah, that's definitely my type.
I'm attracted to your irresistible smile.
kind and gentle.
Looks fade, but intelligence and humor? That's what I'm really attracted to. Lucky for you, you have both.
I have a weakness in your sense of style.
You know, the best times I've had are with someone who loves to laugh and have a good time. Just like you.
Every time you look into my eyes, it's like fireworks exploding. You're my type of mesmerizing.
I don't have a specific type, but I'm definitely attracted to someone who's intelligent and has a great sense of humor like you.
I don't have a specific type, but I'm definitely attracted to someone who's intelligent and has a great sense of humor like you.
You know, my type is someone who's not afraid to be themselves and embrace their uniqueness. And I have to say, you're absolutely captivating.
My type? Someone who laughs at my jokes like you do.
I'm drawn to people who can keep up with my witty banter, and you're doing a pretty great job so far.
You can check:
What does it mean when someone asks you about your type?
When someone asks "What's your type," it typically suggests that they are curious about the kind of person you find attractive or are interested in romantically.
It indicates that they are interested in potentially pursuing a romantic relationship with you and want to understand your preferences.
By asking this question, they are seeking insight into the qualities, characteristics, or traits you tend to be attracted to in a potential partner.
It can be seen as a way of gauging compatibility and understanding if there is a chance for a romantic connection.
Final Thoughts
When asked about your type, it's essential to be authentic and honest while maintaining a playful and flirty tone.
This approach can help create a memorable impression and potentially spark a romantic connection.
Remember to have fun with the conversation and be open to exploring the possibilities that may arise from it.
So, the next time someone asks you, "What's your type?" be ready to charm them with your wit and confidence.
FAQ
Is it okay to be flirty when someone asks about my type?
Yes, it's okay. Flirting can add a playful and exciting element to conversations, as long as it's consensual and respectful. If you feel comfortable being flirty, it can be a fun way to keep the atmosphere light and spark interest.
Can I use these responses even if I don't have a specific type?
Absolutely! These responses are meant to be lighthearted and flirtatious, whether you have a specific type or not. They can help create a playful dynamic and keep the conversation engaging.