2023 Affirmations for a Fantastic Year!
As we embark on this new year, let us strive to make 2023 the best year. Let us approach each day with a positive attitude, determined to achieve our goals and chase our dreams.
With the power of affirmations, we can train our minds to think optimistically, paving the way for success in all areas of our lives.
But let us not forget that being happy and prosperous is a choice. We must surround ourselves with positive energy and cultivate a mindset that allows us to embrace the opportunities that each new day brings. By doing so, we can turn our dreams into reality and make this year the best.
So let us be confident, optimistic, and ready to take on the challenges and opportunities that 2023 has in store. Let's make this year one to remember and truly make it the best year yet.
Read next: 40 Christmas Affirmations to Enjoy The Holiday Season!
How to Use Affirmations for an Amazing New Year?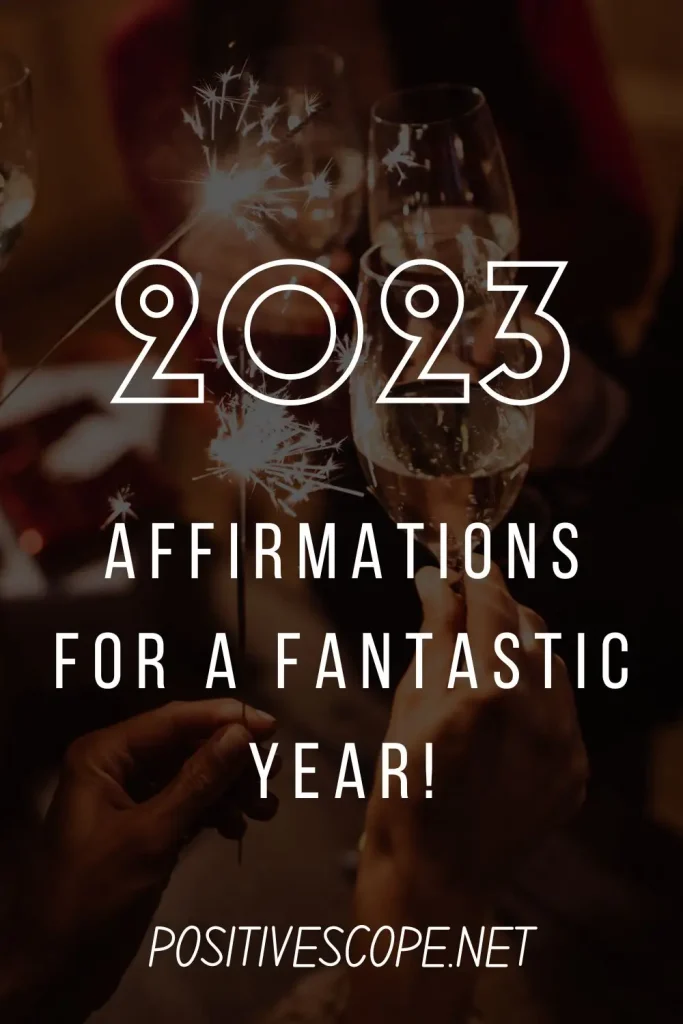 Affirmations are powerful tools that can help you overcome negative thoughts and actions by replacing them with positive ones.
To get started, all you need is a few minutes each day and some affirmations that resonate with you.
Begin by taking a few deep breaths to calm your mind and body.
repeat the affirmations 2-3 times out loud or in your head.
Be consistent
As you continue to practice, you'll notice changes in your mindset and attitude.
You can also write your affirmations on sticky notes and place them in prominent areas where you'll see them often, such as your bathroom mirror or office desk.
The more you practice, the more you'll see the benefits of positive affirmations in your life.
Remember, it takes time for changes to take effect, so be patient and consistent with your practice.
By committing to using affirmations regularly, you can overcome negative thoughts and beliefs and create a more positive and empowered mindset.
2023 Affirmations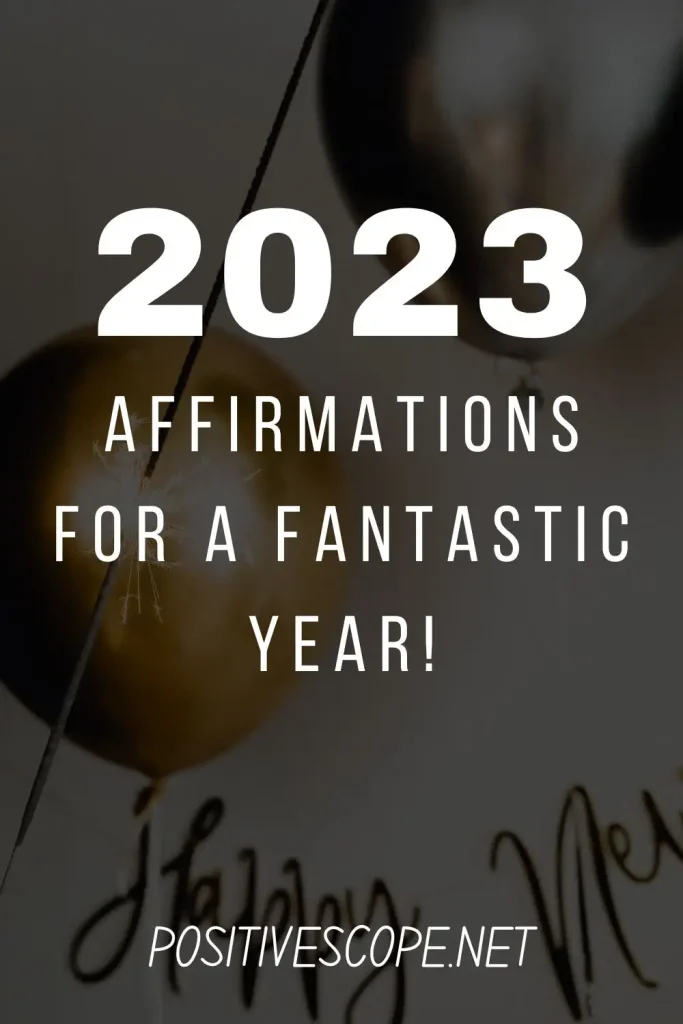 Here are some great 2023 affirmations to use for an amazing year:
It's time to let go of the past and embrace the future.
I will focus on my physical and mental well-being.
Money and success come easily to me.
This year is going to be a year of productivity, relaxation, love, and prosperity.
2023 is a new year filled with endless opportunities and possibilities.
I will be confident in my decisions.
I love myself just as I am.
I am confident in my abilities and ready to take on whatever challenges come my way.
I am grateful for all the lessons and experiences from the past year and I am determined to make the most of this new year.
I will be making a positive impact in 2023.
I will prioritize my health, happiness, and personal growth.
I am excited to see what amazing things this year has in store for me.
In 2023, I possess the confidence and abilities to succeed.
I am ready to design the life of my dreams and manifest my goals and aspirations.
Here's to a fantastic 2023!
I will be grateful for each and every day in 2023.
Everything is working out for me.
I'll manifest my dreams in 2023.
I say goodbye to 2022 and I welcome 2023 with a big smile.
2023 is my perfect year.
I am ready to design the life of my dreams in 2023.
I am open and receptive to new opportunities.
I am strong and resilient in the face of challenges.
In 2023, I am unstoppable in achieving my goals.
I am worthy and deserving of success in 2023.
I am thankful for the blessings in my life in 2023.
I am open and receptive to new opportunities in 2023.
I am committed to making a positive impact in the world.
I trust in my abilities and make confident decisions
I am fulfilling my full potential and achieving my dreams in 2023.
To Conclude
It's never too late to make positive changes in your life, and the new year is a great opportunity.
If you want to see improvement in your life, relationships, and business in 2023, it's important to start planning and setting goals now. Writing down affirmations can be a powerful tool to help you stay focused and motivated as you work towards your goals.
Some possible goals for 2023 might include:
Improving your physical health by exercising regularly and eating a balanced diet
Strengthening your relationships by spending more quality time with friends and family
Advancing your career by taking on new challenges and learning new skills
Pursuing a personal passion or hobby that brings you joy and fulfillment
Giving back to your community by volunteering or donating to a worthy cause
By setting clear goals and working towards them each day, you can make significant progress in achieving your dreams in the coming year. So don't wait any longer start writing down your affirmations and take the first step towards a better 2023!"