32 Flirty Responses to Have a Good Day
When it comes to brightening someone's morning, there's nothing like a flirty greeting to get the day started off right!
Whether you're trying to make your partner smile or just want to let someone know you're thinking of them, we've put together 32 flirty responses and conversation starters that are sure to have a good day.
From sweet and romantic good morning messages, funny jokes and even some straightforward replies – there's something here for everyone! Let's dive into the best ways to start the day with a flirty conversation.
For those who are morning people, here are some sweet gestures that will put a smile on your partner's face:
Flirty Responses to "Have a Good Day!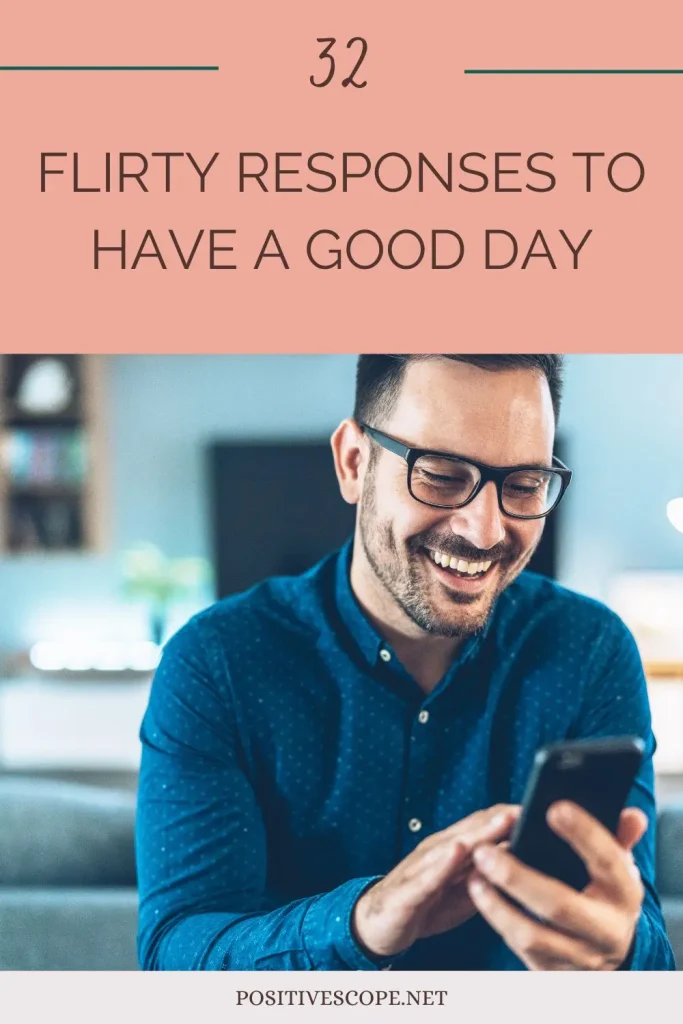 I'm sure it'll be, especially if I get to spend it with you
It'd be even better if you were here with me.
I hope so! What have you got planned for the day?
It's been great so far. You?
Awww, thank you! You're so sweet 🙂
You make my day.
Same to you. can't wait to hear your voice later.
My day is already a million times better after hearing from you.
It could always be better if you came over.
Thanks! How was your day so far?
Thanks. Can't wait to see you tho. 😉
My day can only get better now that we're talking.
I'm thinking of you and it's already a great day.
It's time to make the most of it with you.
It's gonna be a good day, no matter what.
I'm looking forward to making it better with you.
Let's make some amazing memories together.
That would make my day if we could spend it together.
Thanks! The rest of my day would be a lot better with you in it.
I'm already looking forward to how the day will end.
That would be great, let's make plans for later.
It'd be even better if you were here with me.
Thanks! I'm already feeling much better.
Nothing better than spending the day with you.
I'm sure it'll be a great day. What have you got planned?
Flirty Responses to "How Was Your Day?" or "What's Up?
It's been great. How about you?
I can't wait to see your beautiful face today.
I hope you have an amazing day.
Not much. Just thinking about you.
It was alright until I heard from you.
It's been okay, but it It's much better now that I'm talking to you.
Read next: 26 Flirty Response to "What Are You Thinking About?"
Tips for Writing the Perfect Flirty Message
If you want to make a good impression on your crush, why not take advantage of the morning hours? After all, sending someone an early morning flirty message is a great way to pique their interest. Plus, who doesn't love waking up to something nice?
To help write the perfect flirty message, keep these tips in mind:
1. Text like you mean it.
Put some thought and effort into what you're saying and make sure your words aren't just copied from somewhere else. Your special someone will appreciate it more if they know that your thoughts and feelings towards them are genuine and coming from the heart.
2. Use humor.
Whether it be a witty one-liner or a funny joke, adding some laughter into your text conversation can keep the conversation lighthearted and fun!
3. Make it your own "use your own words."
As mentioned previously, nothing beats communicating with words that are tailor-made for the recipient. Take some time to find special adjectives or phrases that describe how you feel about them whatever they may be!
So there you have three tips for writing the perfect flirty message! Remember that when crafting your message, take a minute or two to think it through before hitting "send" so that you can come up with something meaningful yet playful at the same time!
Read next: 30 Flirty Responses to Do You Miss Me?
Final Thoughts
flirting is about having fun and making the other person feel good.
Experiment with morning texts, funny responses, and straightforward replies until you find what works for you.
You'll be sure to put a smile on their face and make their day even brighter than it already is!